I'm not sure why, but roasted garlic, in my humble opinion, is fancy.  Maybe it's because you never see it at your local all-you-can-eat buffet, pizza joint, or restaurant chain.  No, IF you see it, it's served alongside a dish you can't pronounce in a restaurant that refers to themselves as a 'trattoria,' 'bistro,' or 'café' (accent required).   Which is exactly why you should make it and serve it at your next get together.  It is extremely impressive, yet easy and versatile, all the while being so stinking delicious.  It's a no-recipe-recipe.  Here's how you do it.
When I roast garlic, I always reach for elephant garlic.  It's a larger bulb, which results in much larger cloves, and the flavor is more mild and sweet than a traditional bulb of garlic.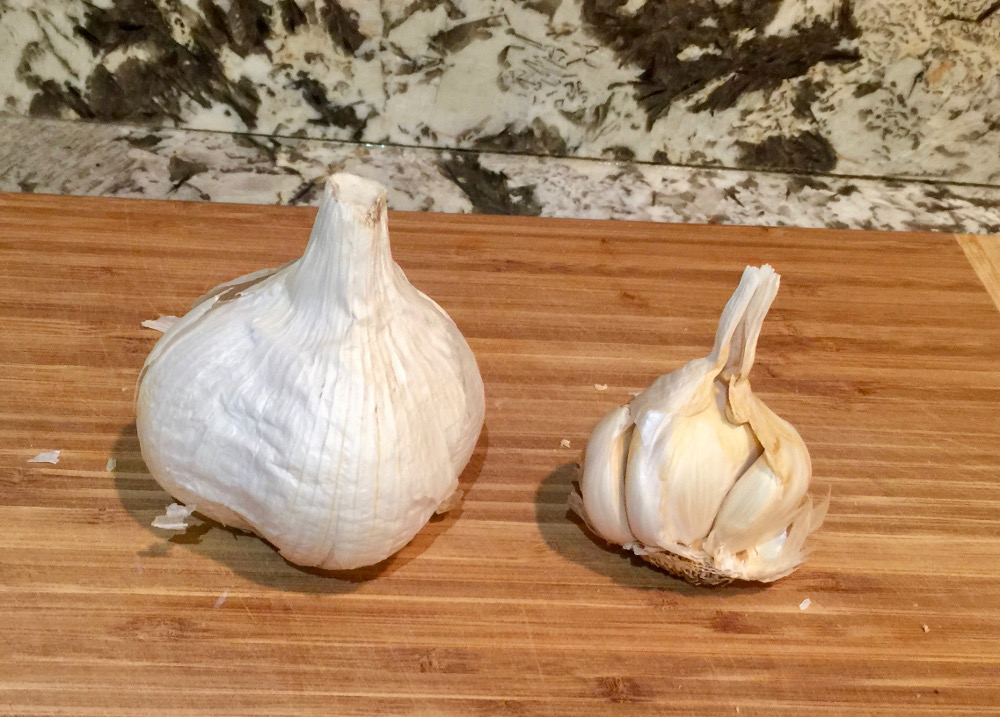 Begin by cutting the bulb in half, perpendicular to the cloves.  Each clove should be sliced in half.

Elephant garlic is also different in that it tends to fall apart and lose its skins when you cut it, rather than staying in one tight pretty bulb as regular garlic does.
Place the cut garlic on a large sheet of aluminum foil and cover generously with olive oil, salt and pepper.

Then roll up the aluminum foil into a tight package and place in a 400 degree oven for one hour and 15 minutes.  If you are using regular garlic, this time will be less.  An hour should do the trick.

This is what my package looks like, but it really doesn't matter as long as you have a tight seal.  Now we wait for the magic to happen…

Breathtaking isn't it?
Ok, that's it.  You're all done.  Toodle-oo!
Just kidding!  Although that is the entire recipe.  I told you it was stupid easy, right?  But I know you wondering what to do with this masterpiece.
For a very impressive serving option, you can place a few individual cloves alongside grilled meats or vegetables.  This would be great for a formal dinner party.  But, I never have 'formal' anything.
I personally prefer a less fancy application.
Magic does happen in the oven as the garlic cooks.  The flavor becomes more mild and sweet and the consistency of each cloves becomes that of softened butter.  So I like to take advantage of that silky goodness.

Remove any leftover skins, transfer the bulbs to a bowl, and mash the garlic with a fork.  Golden brown and delicious!
You can use this paste as a pizza sauce, a stuffing for beef or pork wellington, a pasta sauce…really anything you can imagine.  The other night I made this truly divine roasted garlic cheese bread.  So good, and so much better for you!  The consistency of the garlic makes it so that you hardly have to use any butter.  The garlic is all the flavor you need.
In addition to the cheese.  Of course.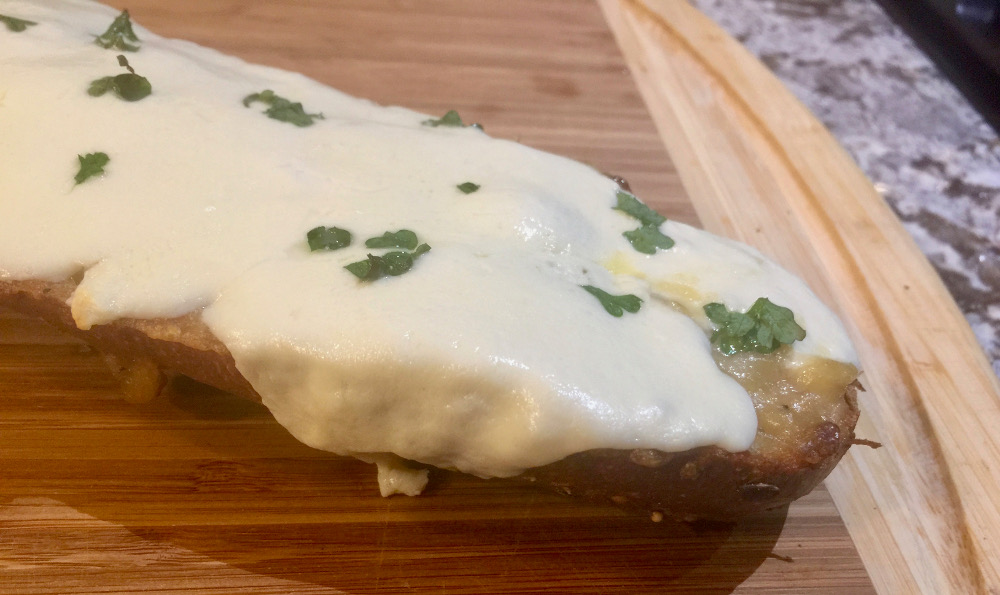 But honestly, my favorite application is to just spread it on a piece of bread and eat it.  This is a great appetizer.

The garlic spread is usually ready to eat before the rest of the meal.  While I finish cooking, my husband and daughter come in the kitchen and we all snack on roasted garlic smeared bread until we're *almost* too full to eat the proper meal I've prepared.
It's my favorite time of day.
Yes, roasted elephant garlic is very yummy, and oh so good for you.  And it can be as fancy and impressive as you want it to be.
But, it's also an easy enough recipe that you can make it once or twice a week, giving your family a tradition and memory that they'll always have.  I hope when my daughter is grown, she remembers eating roasted garlic around the kitchen counter with daddy while momma cooked.   If we can give her lots of sweet, simple memories like that, I think we are doing an above average job at this parenting thing.
Roasted Elephant Garlic
Elephant garlic is larger than traditional garlic, and has a sweeter, milder flavor.
Ingredients
1 Bulb of Elephant Garlic
Olive Oil
Salt and Pepper
Instructions
Preheat your oven to 400 degrees.
Slice the bulb of garlic in half perpendicular to the cloves.
Place the garlic on a sheet of aluminum foil and season generously with olive oil, salt and pepper.
Wrap the aluminum foil tightly around the garlic, making a sealed package.
Roast in the oven for 1 hour and 15 minutes.
Serve as is, or mash with a fork and spread on bread.