Stromboli is comfort food for me, for more than one reason.  It is bready and cheesy, which are necessary attributes to be labeled comfort food in my house.  But, it is also comforting for the cook.  It requires minimal ingredients, minimal time, and minimal clean up.  It's a great way to clean out your refrigerator, the main ingredient is leftover ham!  What's not to love about this Hawaiian Stromboli recipe?  
My father-in-law spent the night with us last Monday.  He lives alone, so when he comes to town I like to treat him to a home cooked meal made with love.  No, it was not Stromboli.  
PawPaw is convinced he only likes 'American' food, and to him 'American' food = NOT tacos, NOT spaghetti, NOT fried rice, NOT pizza, NOT fajitas, NOT lasagna…NOT all the tasty foods that make life worth living.
So, because we love PawPaw so much, we had a big Sunday supper on Monday night, complete with Baked Ham, crockpot Mac and cheese, green beans with bacon and potatoes, and biscuits, delicious biscuits, straight out of the freezer.  I am not ashamed.
It was a delicious meal, but the next night I wanted *my* kind of comfort food.  And I had a fridge full of leftover baked ham.  Enter Hawaiian Stromboli night.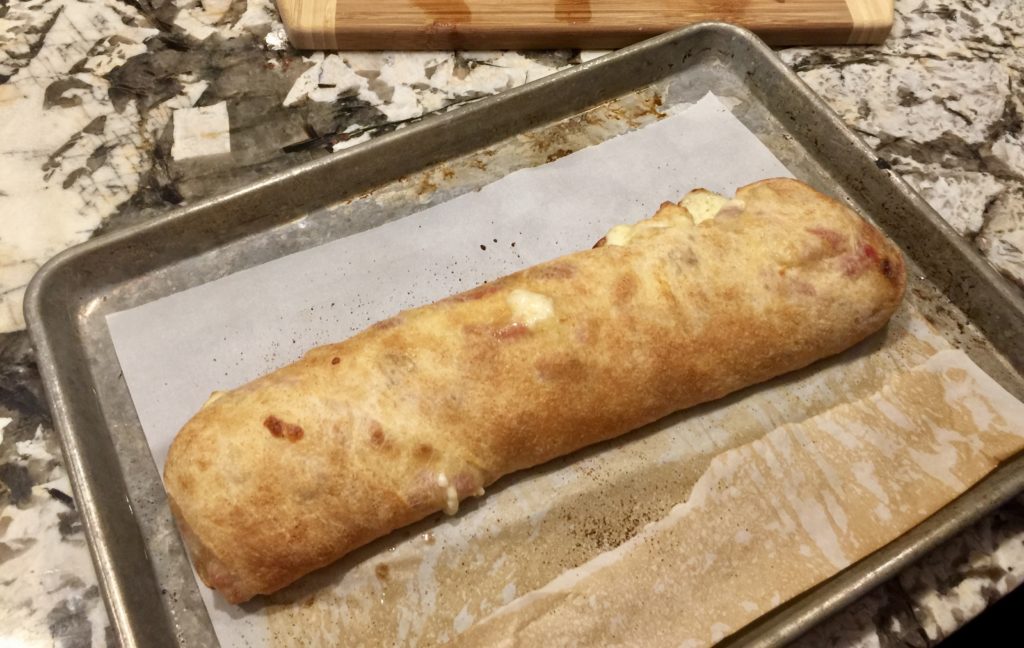 What a beautiful bready log of cheese and ham.
As I mentioned, this recipe is a great way to clean out your fridge.  Check out the ingredients.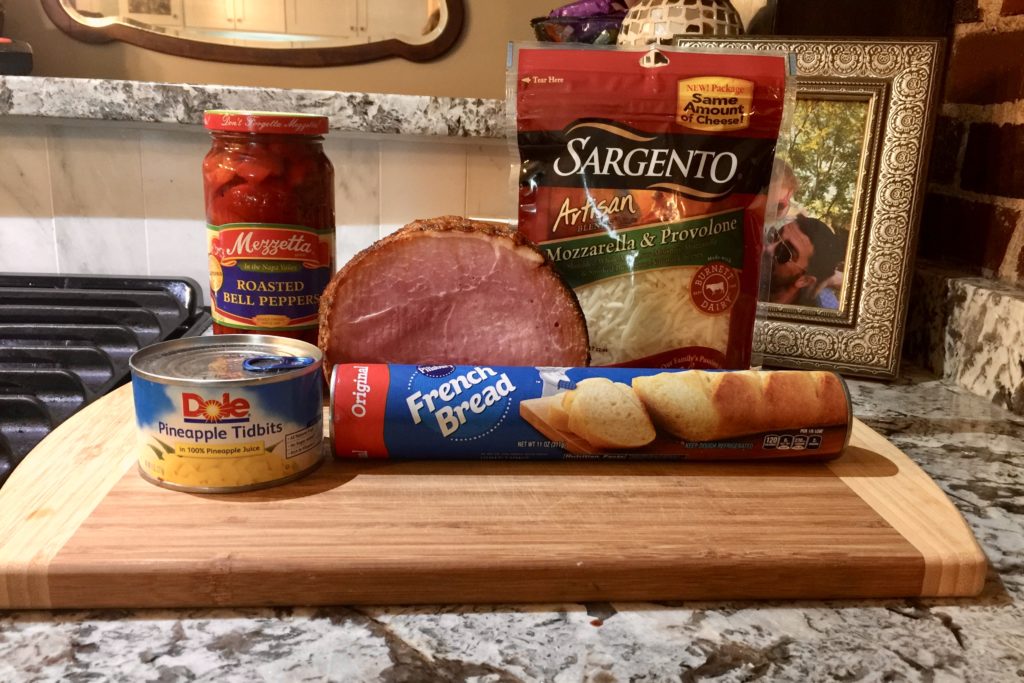 Let's begin, shall we?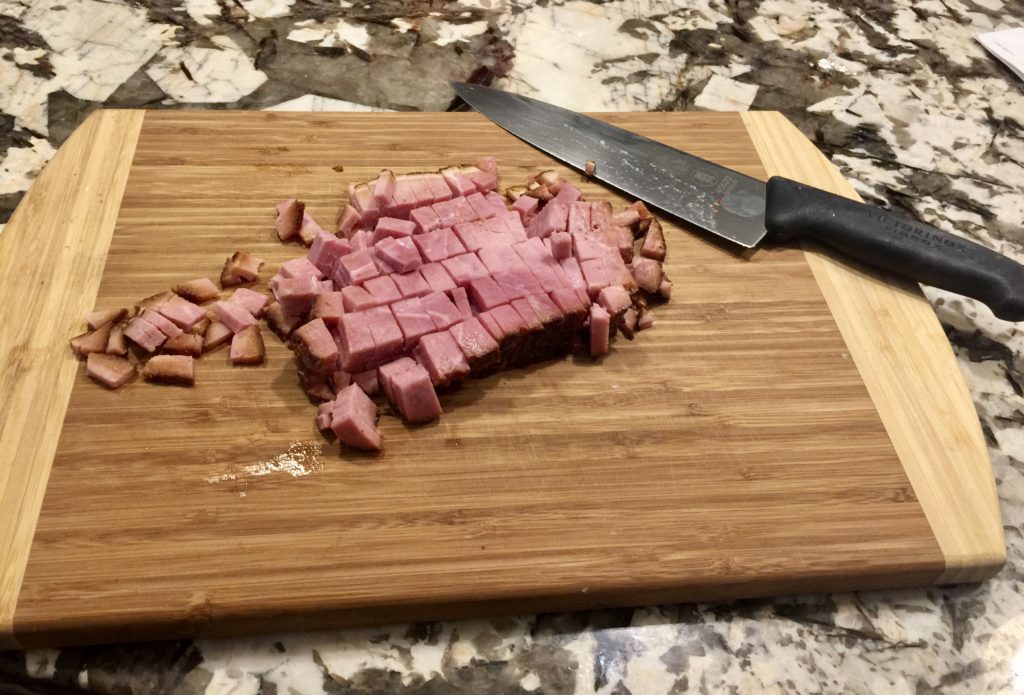 While your oven is preheating to 350 degrees, dice up a whole mess of ham.  I began with about 12 oz, and that was entirely too much.  Cube up around 6 oz of ham.  Then slice about half of a 16 oz jar of roasted red peppers.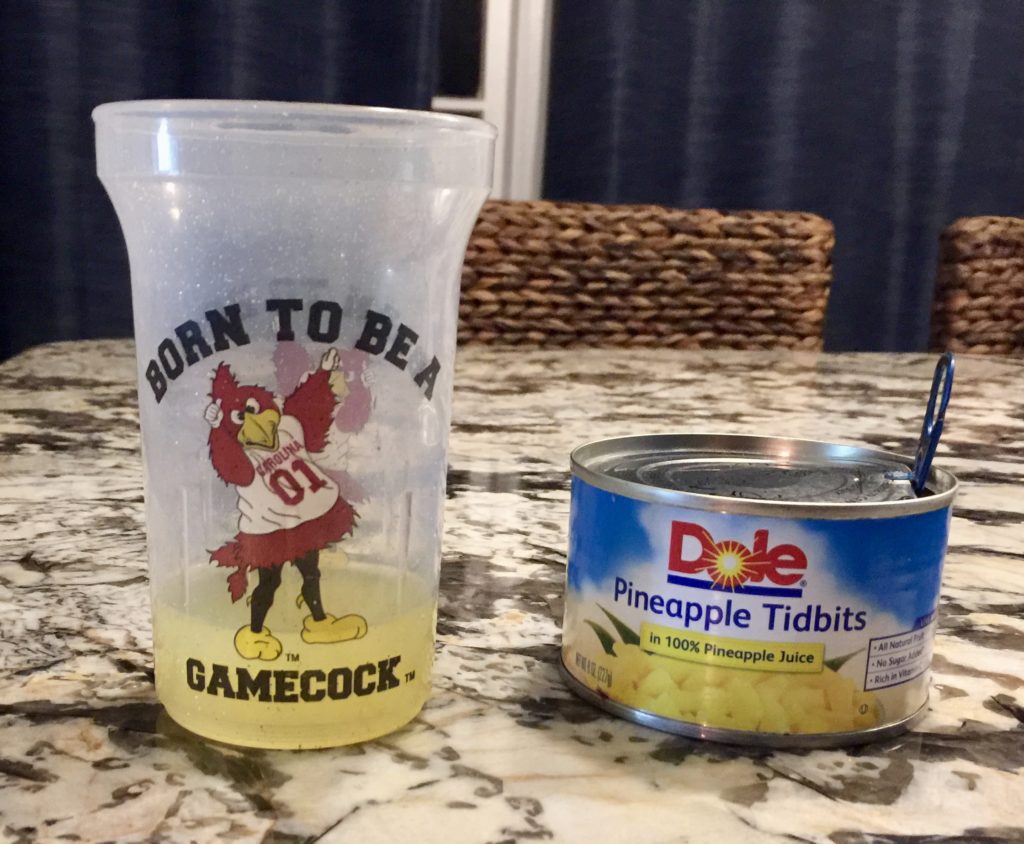 Crack open a can of pineapple tidbits and drain the juice into a cute little cup for your spoiled rotten three year old.
Now for the fun part.  Crack the can of French bread on your counter, pull the dough out, and begin unrolling into a rectangle.  If the dough tears like mine did, just smush it back together.  This dough is forgiving.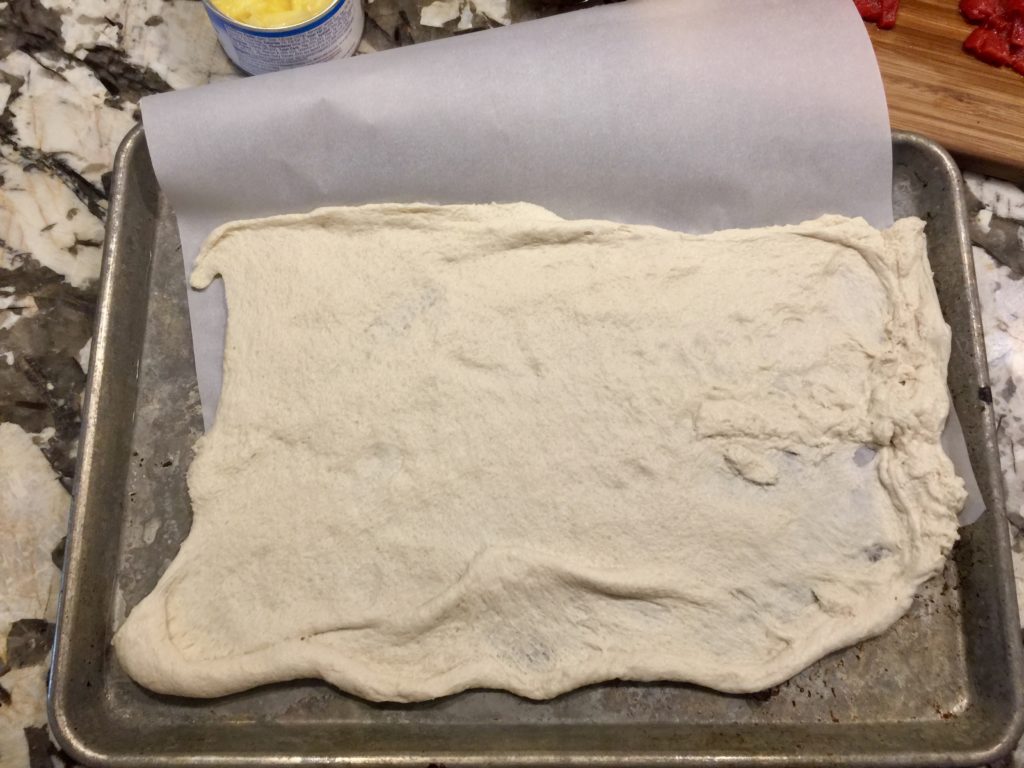 And no, my parchment paper did not start out all whop-sided on the pan.  We had…issues.
Question-does anyone use the French bread in the can to, *gasp*, make actual French bread?  Crazy thought, right?  If you do, please let me know if it is delicious or not.  I may be on the verge of a new discovery here…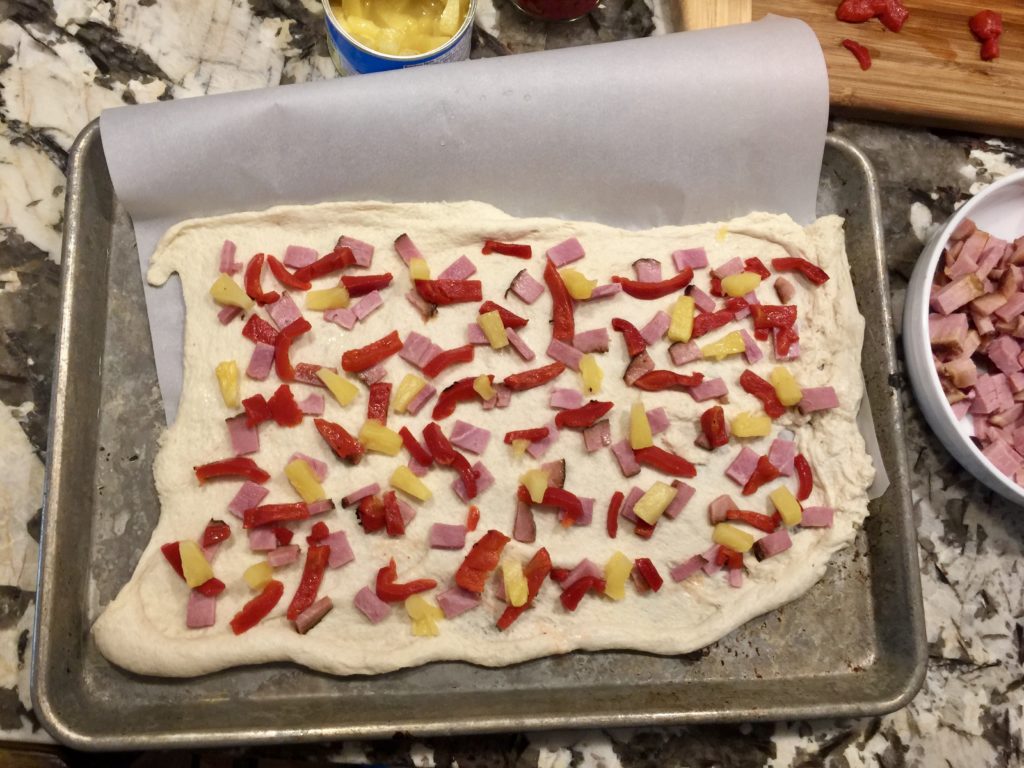 Moving on….sprinkle equal amounts of ham, roasted red peppers, and pineapple all over the dough, leaving a 1″ border.  Eat the rest of massive amount of ham you chopped while no one is looking.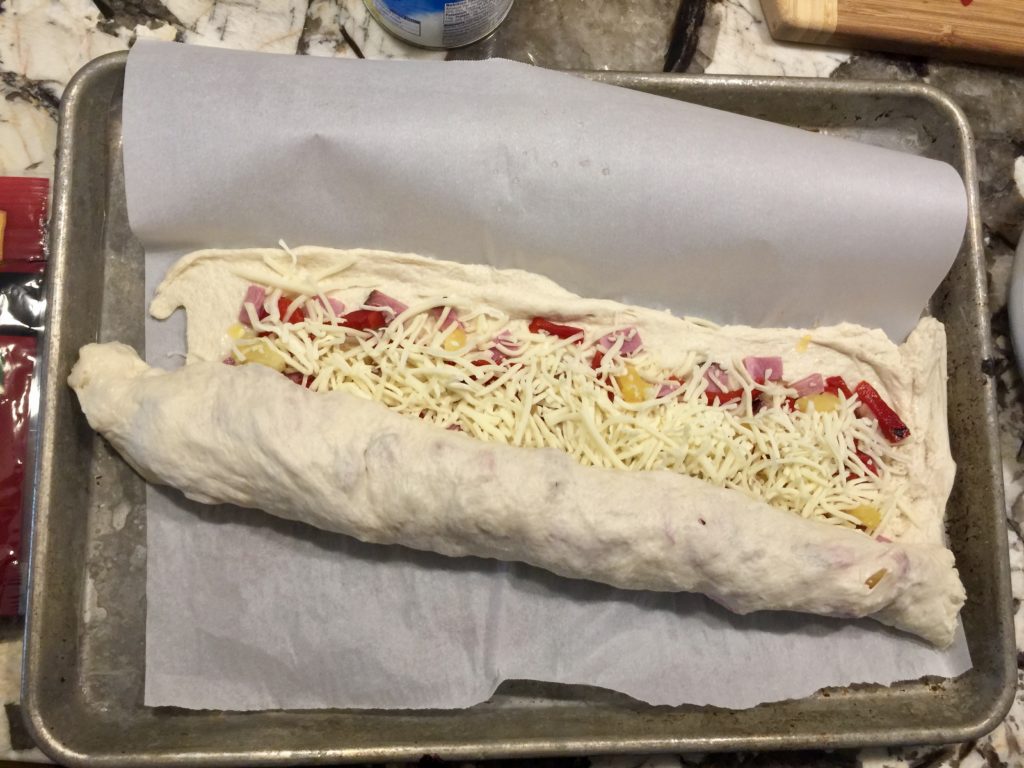 Now sprinkle on the cheese.  Yes, all of it, don't be shy.  And begin to roll.  If you love Pioneer Woman like I do, you will notice that I am attempting her 'typewriter' rolling technique.
Tuck the ends under, lay seam side down on parchment, and melt about a tablespoon of butter in the microwave.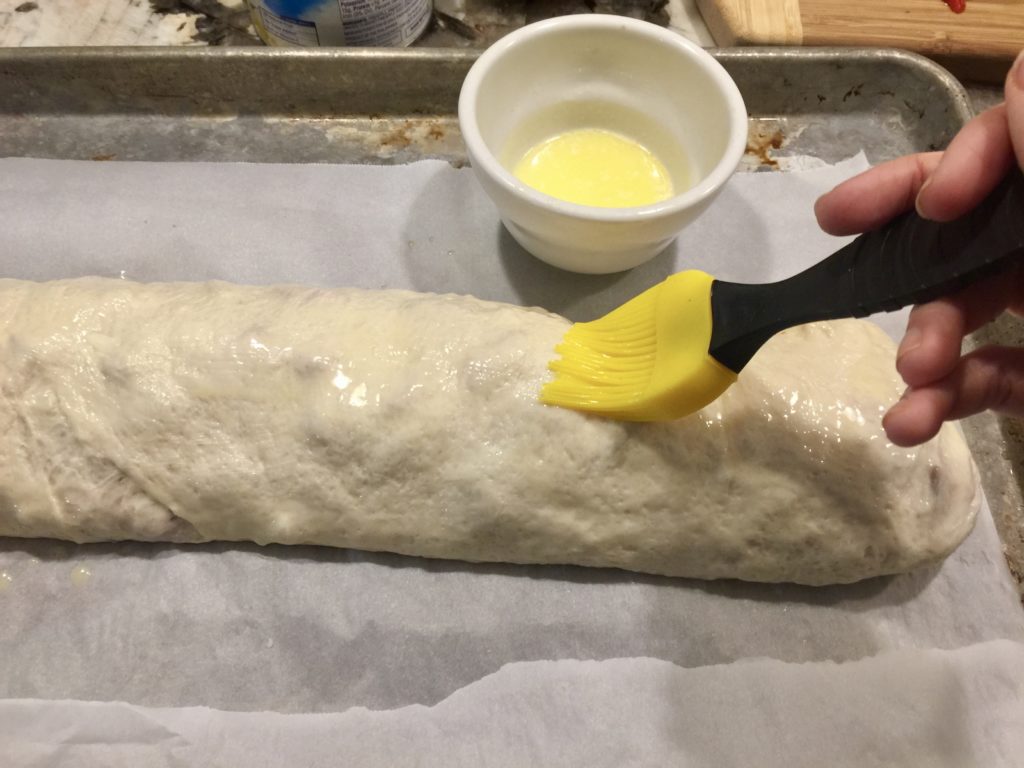 Brush the whole log with butter and sprinkle generously with garlic powder.  Use more than you think you'll need, if you love garlic like I do.  It tends to mellow in the oven.
Pop the bad boy in a 350 degree oven for 26-30 minutes and then let it rest for 10 minutes before slicing into strips with a bread knife.  Serve with marinara sauce for dipping.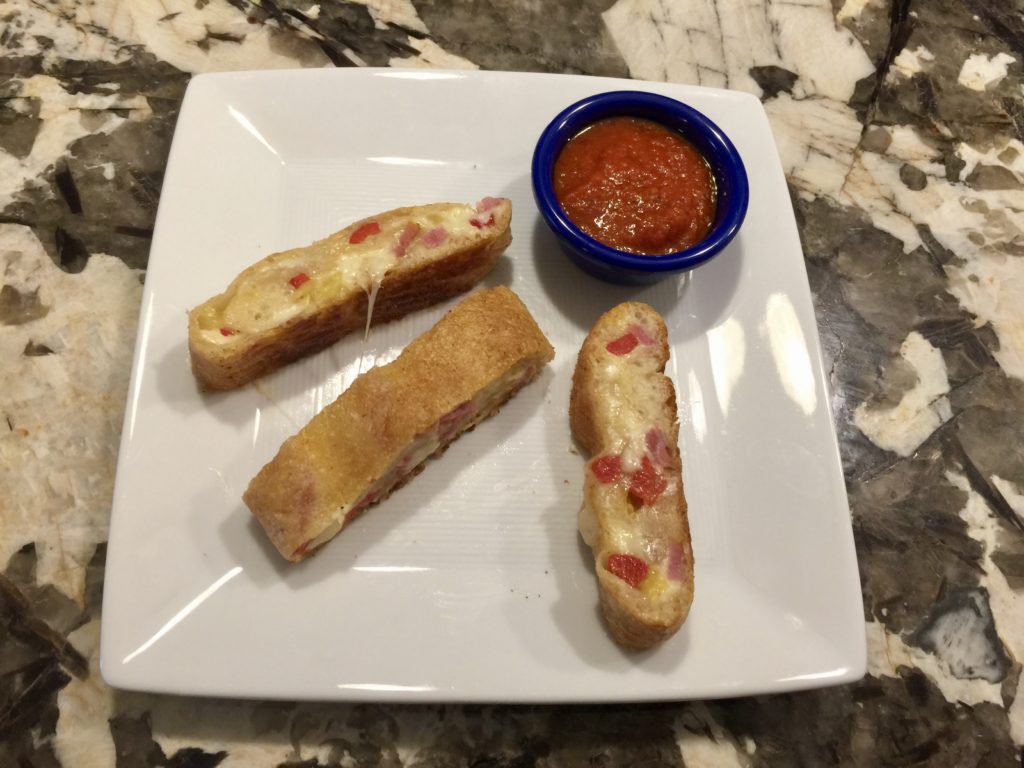 Cheesy, bready, sweet and savory.  Oh my.  You may want to make two or three of these.  Between two adults and a three year old, this deliciousness didn't last 10 minutes.
Hawaiian Stromboli Recipe With Leftover Ham
Cheesy, bready, sweet and savory. You may want to make two or three of these.
Ingredients
1 tube of refrigerated French bread
1 can of pineapple tidbits, drained
6 oz of cubed ham, leftover baked ham preferably
8 oz sliced roasted red peppers
4 oz shredded mozzarella cheese
4 oz shredded smoked provolone cheese
1 tbs melted butter
Garlic powder
Instructions
Preheat the oven to 350°F.
On a parchment lined baking sheet, unroll the refrigerated French bread into a rectangle.
Sprinkle the ham, pineapple, and roasted red peppers over the dough evenly, leaving a 1" border.
Top with the shredded cheeses.
Roll the dough jellyroll style beginning with the longer end. Tuck the ends under, and lay the log of deliciousness seam side down on the parchment paper.
Brush the log with butter and sprinkle generously with garlic powder.
Bake in the preheated oven for 26-30 minutes.
Let rest 10 minutes before slicing with a bread knife. Serve with marinara for dipping.
Nutrition Information
Serving size:
1
Calories:
712
Fat:
30
Saturated fat:
15
Unsaturated fat:
3
Trans fat:
0
Carbohydrates:
72
Sugar:
17
Sodium:
2054
Fiber:
6
Protein:
41
Cholesterol:
92