Some days you have the main course completely figured out, but are stumped when it comes to the side dishes.  Rice again?  How boring.  Potatoes?  Not again.  (And who wants to peel them?)
This recipe may not seem that exciting initially, but simple, fluffy, perfectly cooked quinoa will not only round out your meal, it will add a bit of elegance to your plate.  And it tastes good too!
The first time I tried quinoa was at a fancy restaurant in Charleston with my girlfriend and her mother.  The quinoa was very al dente, tossed in a balsamic vinaigrette, and served alongside a seared, medium rare tuna steak.  The meal was delicious all around, but the texture of the quinoa was amazing.  It was almost, almost crunchy.  In a good way.
When I returned home, I of course wanted to make quinoa myself.  How hard could it be?  The directions on the side of the package, as well as almost every recipe online, called for 1 part quinoa to 2 parts liquid.
How disappointing were the results!
After the 15 minute cooking time, there was still a pool of liquid at the bottom of the pan.  So, I continued to cook it until the liquid was finally absorbed.  What was left was a very sad pot of mush.  Plain white rice would have been more interesting.  I must have done something wrong!  So, I tried again, at least three times over the course of a few weeks, and finally said to heck with this and began experimenting.  I'm happy to say that I made a discovery-
This is How To Cook Quinoa Perfectly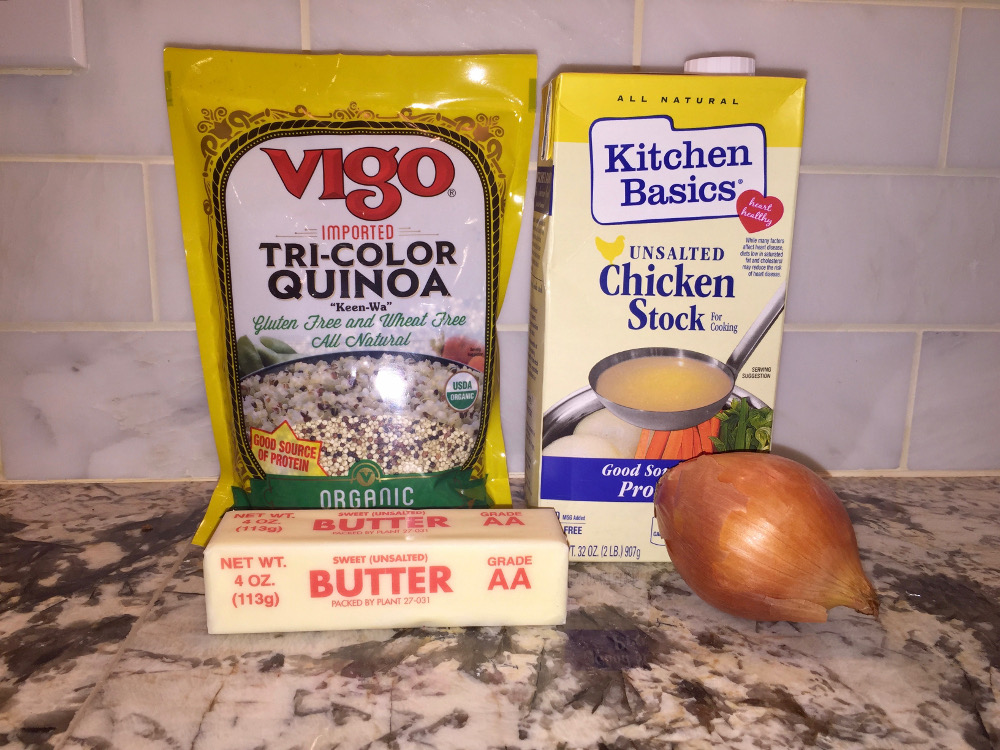 Sometimes the simplest ingredients make the most delicious dishes.  But every step in this extremely easy recipe is important, so please don't skip any.
Begin by dicing up an onion, and cooking it in 1 tablespoon of butter with a pinch of salt, stirring occasionally, over medium to medium high heat until softened, but not browned.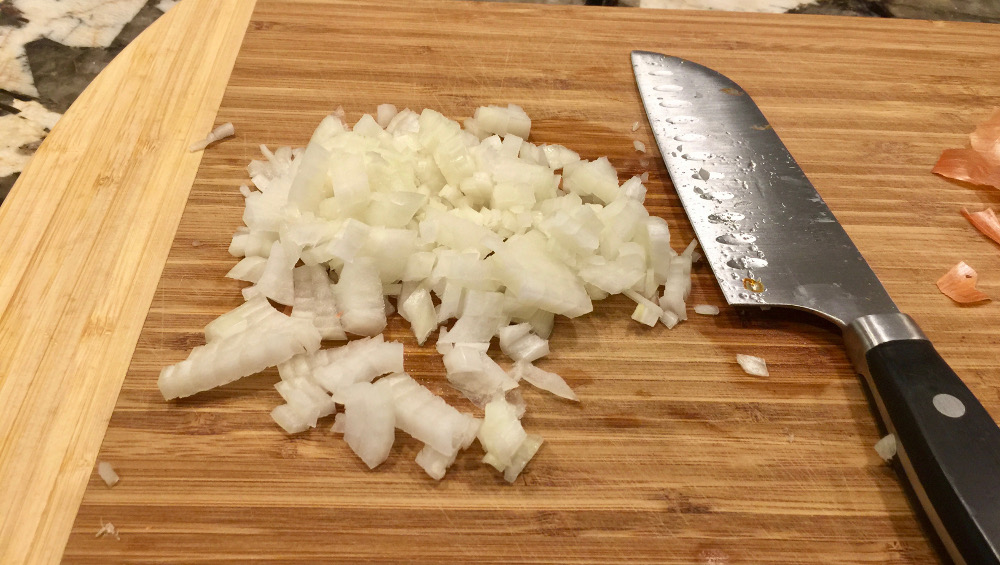 While the onion is cooking, READ YOUR PACKAGE OF QUINOA.  If it says the quinoa has been previously rinsed, you are good to go.  If not, rinse the quinoa.  This makes a huge difference in the final product.  You will need a cup of quinoa for this recipe.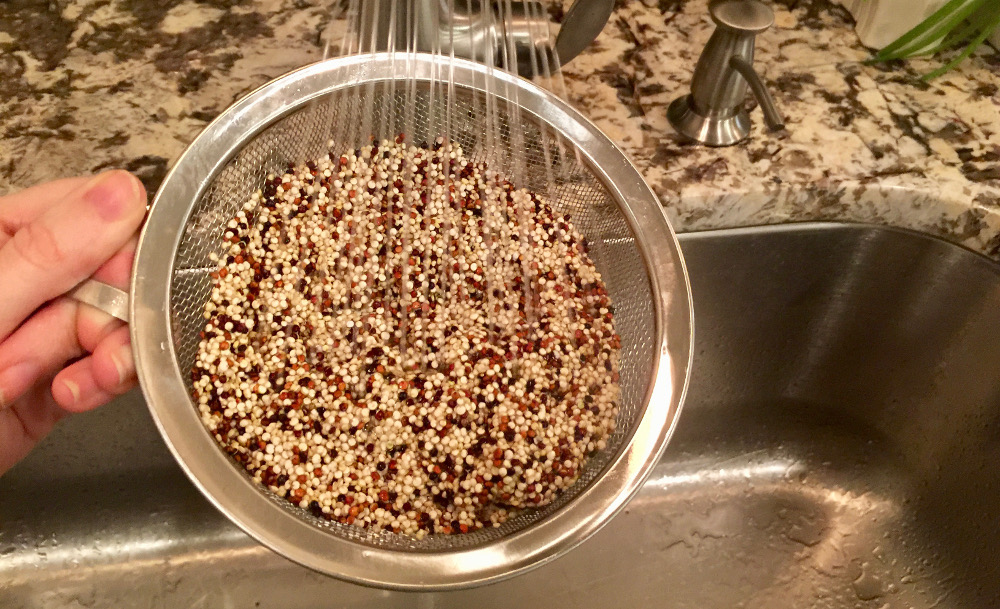 It takes less than a minute.  Don't be lazy (like I've tried to be!).  It will ruin your final product if you skip this step.
Dump the quinoa in with the onion and butter, and stir it around for 2 minutes until the lighter colored grains (or seeds I should say) begin to looked toasted.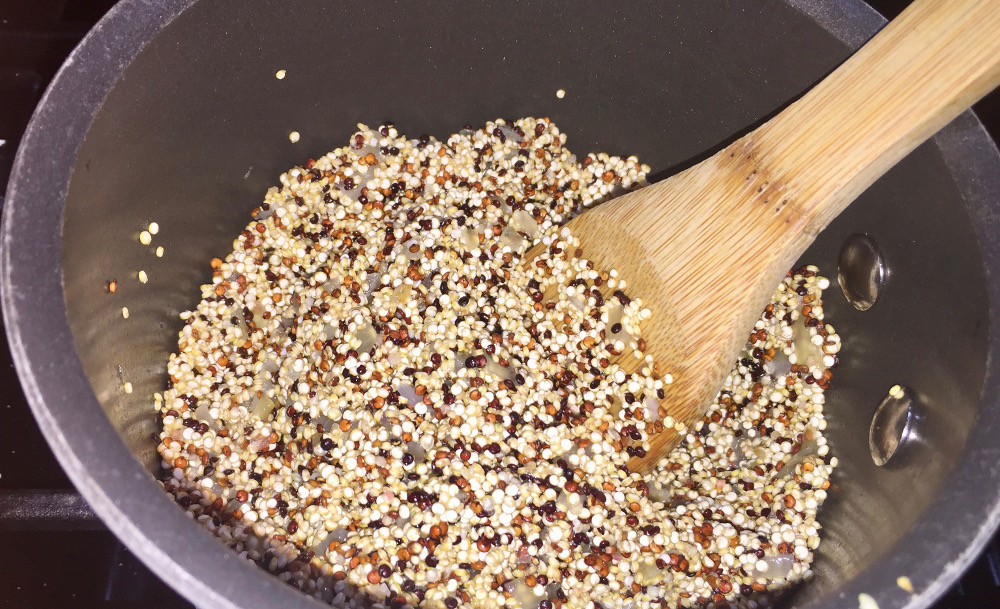 See?  Toasty.
Moving on.  We are using 1 cup of quinoa remember?  So, we will need 1 and 1/4 cups of unsalted chicken stock.  Pour that into the pot along with 1/2 teaspoon of salt.  If you are using salted chicken stock you will need to decrease the amount of salt.
Perfect quinoa is all about using the correct ratio of liquid and properly seasoning.  The correct ratio, in my humble opinion, is 1 : 1.25.
Bring the mixture to a boil, cover, reduce heat, and simmer for 15 minutes.
After 15 minutes remove the quinoa from the heat, but leave the lid on, and let sit for 5 to 10 minutes.   Fluff with a fork, and there you have it!  Perfect quinoa.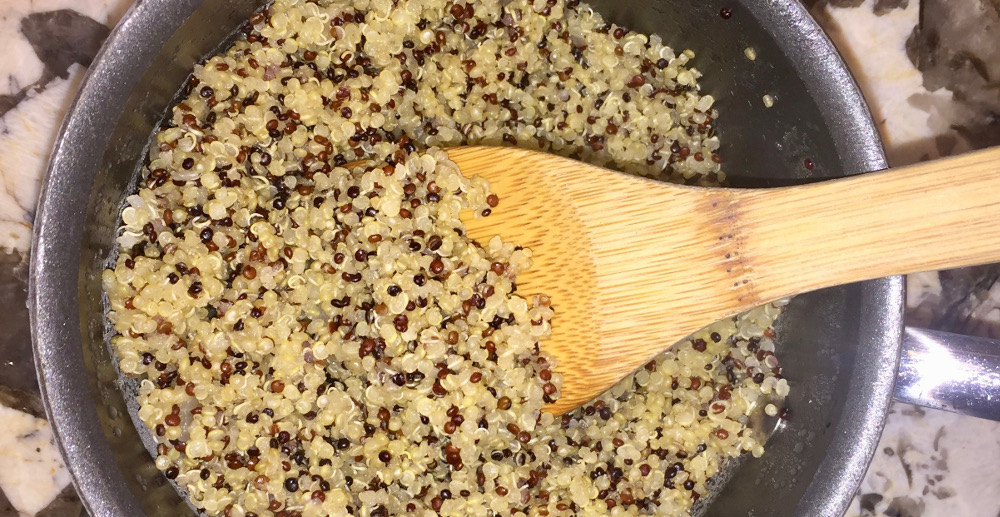 Now, you may be wondering what to do with your perfectly cooked quinoa.
Well, don't you know I just happen to have some ideas.  Assuming you have adequately seasoned your quinoa, it will taste savory and yummy all by itself.  But, because we used the proper cooking ratio, the quinoa is light instead of being soggy and mushy, making it a perfect side to main dishes with sauces or gravies.
It's delicious with fried pork chops and country gravy.  You can top it with chili.  It's an elegant side to lemony chicken picatta.  Or, this is one of my favorite applications, eat it for breakfast (or Not!) topped with a gooey, over easy egg.
The night I made this batch, we ate it alongside balsamic chicken and bell peppers.  Really great combo.  I'll post that recipe one day, note to self…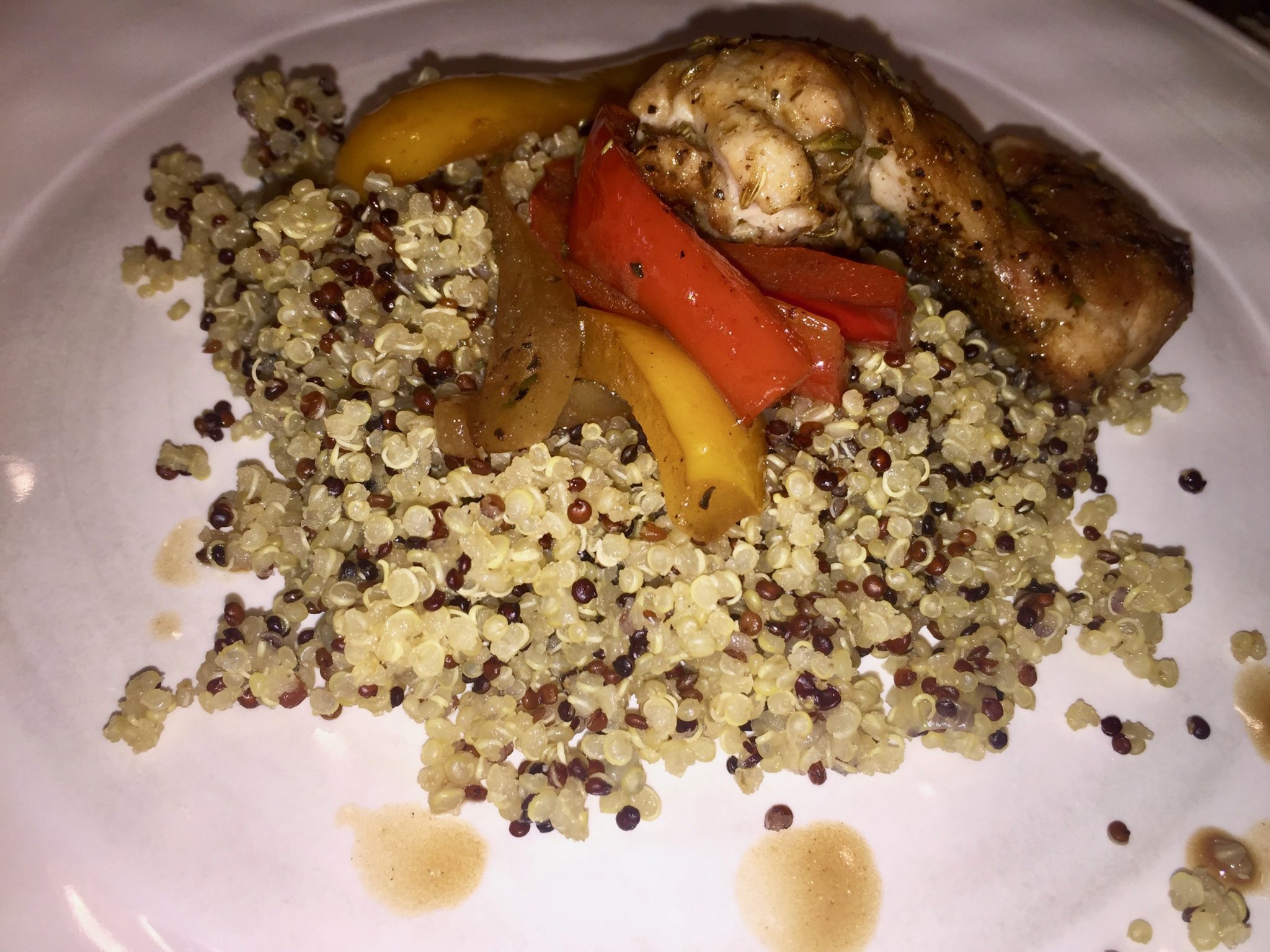 So lets review.  The three steps to perfect quinoa are-
Rinse your quinoa (unless you purchased prerinsed).
Season your quinoa!  About 1/2 tsp for 1 cup of quinoa, assuming you are using unsalted chicken stock.  Speaking of stock0
Use the proper quinoa to liquid ratio, which is 1 : 1.25.
Now, go forth and make great quinoa!
THE Recipe for Perfect Quinoa
A healthy, savory quinoa recipe that goes with just about everything.
Ingredients
1 cup quinoa, rinsed (I prefer tricolor, but any color will work)
1¼ cups unsalted chicken stock
1 small onion, diced
1 tbs butter
½ tsp salt, plus a pinch for the onion
Instructions
Rinse your quinoa.
Melt the butter over medium to medium high heat. Add the onion, along with a pinch of salt, and saute for 5 minutes until the onion is softened but not brown.
Add the quinoa to the pan and cook for 2 minutes until the seeds are slightly toasted.
Pour in the stock and ½ tsp salt. Stir.
Bring the mixture to a boil, cover, reduce heat, and simmer for 15 minutes.
Remove from heat, and let sit covered for 5-10 minutes.
Fluff with a fork and serve.
Nutrition Information
Serving size:
1
Calories:
202
Fat:
5
Saturated fat:
2.5
Unsaturated fat:
2.5
Trans fat:
0
Carbohydrates:
32
Sugar:
2
Sodium:
364
Fiber:
3
Protein:
7
Cholesterol:
8